11th Meeting on the Follow-up of the Joint Statement on Guiding Principles for the Development of Inland Navigation and Environmental Protection in the Danube River Basin
The 11th Meeting on the Follow-up of the Joint Statement was held in Zagreb (Croatia) on 16th – 17th September 2020. In view of the current COVID-19 situation, the meeting was conducted online by means of the GoToMeeting platform with an updated and improved agenda, and involved about 60 participants.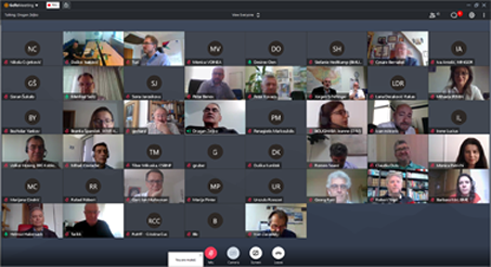 Experts from Austria, Germany, Serbia and Croatia reported on the status of implementation of important national and joint projects in line with the Joint Statement process. The main topics of discussion were sediment management and the situation on the Upper, Middle and Lower Danube. Following the completion of the DTP project Danube Sediment, it was agreed that the JS process could use its results to implement pilot measures and to keep this topic on the agenda. The German waterway administration made a very important presentation on investments in the Straubing-Vilshofen stretch of the Danube. Work on the first subsection Straubing-Deggendorf will consist of three phases in the period 2020-2026, with investment amounting to 663 million euros. The focus will be on fairway maintenance, environmental protection measures, and flood control and protection.
The status of the project FAST DANUBE "Technical Assistance for Revising and Complementing the Feasibility Study Regarding the Improvement of Navigation Conditions on the Romanian-Bulgarian Common Sector of the Danube and Complementary Studies" was presented as a selected project case.
EU representatives addressed aspects of funding from the CEF programme for inland navigation in the previous period, presented the budget framework for the next period, and reported on progress regarding the EUSDR PA1a and GNS process.
Based on the meeting of the three Commissions in Zagreb on 10th of March 2020, there is an agreement about the reform of the JS process presented by the DC during the JS meeting. Workshops on sustainable waterway infrastructure projects will be organized back-to-back with the regular JS follow-up meetings on a biennial basis. The first such workshop is to be held in Budapest in 2022.
The METEET project is being implemented through webinars, and the next online workshops will be held at the beginning of November in Romania and subsequently in Bulgaria.
To pave the way for new positive developments in the reform process, the ICPDR will organize the next Joint Statement Meeting in Vienna in mid-September next year.