The Danube Commission participated in the 5th Annual Consultation of the Serbian Port Government Agency
On 17th December 2019, in Belgrade the Port Government Agency of the Republic of Serbia held its 5th regular annual consultation with the Ports, River Shipping and Ship Agent groups under the Serbian Chamber of Commerce. The meeting was attended by over 80 participants, among which the Danube Commission traditionally had a special status.
The year 2019 has been extremely successful for freight and passenger traffic on rivers in Serbia. By the end of this year, about 13.5 million tons of cargo will be transshipped in Serbian ports, reflecting an increase of 10 % over the previous year.
Regarding passenger traffic, international passenger terminals in Serbia have received 1.539 cruise ship landings, a third more than last year's season. The number of passengers embarked and disembarked increased by 30 %, recording over 208.000 coastal users.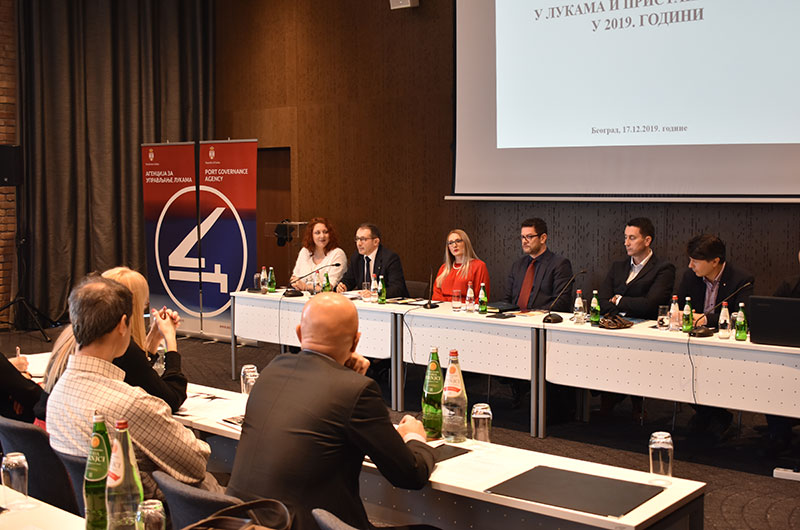 Dejan Trifunovic from the DC Secretariat said that the Agency has conducted notable activities both internally and internationally in the past. According to him, the Danube Commission supports holding expert meetings, such as annual consultations, bearing in mind that they are the best way to find solutions jointly with the stakeholders for more successful water transport. Trifunovic presented the plans of the Danube Commission for the coming period, which include numerous policy and project activities and harmonization of procedures with the EU Directives in order to promote IWT. Trifunovic emphasized the start of application of the DAVID forms from 1 January 2020 in Hungary, Croatia and Serbia. He announced the continuation of the DTP DAPhNE project through the formation of a new DTP DIONYSUS project consortium. He added that the Agency was invited to participate in the continuation of the project owing to the successful work under the DAPhNE project activities.
The Port Government Agency presented Annual report for 2019 featuring an interview with the Director- General of the DC Secretariat, Manfred Seitz.
During the discussion, the participants agreed that the annual consultations provide an opportunity for port operators, shippers and shipping agents to initiate activities that would significantly improve IWT.
Annual report/interview of Mr Manfred Seitz (Serbian):
https://www.aul.gov.rs/folder/godisnji-bilten-2019.pdf